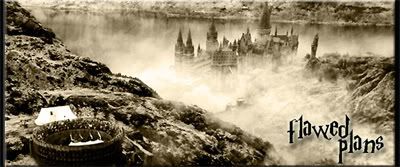 We are seeking players for George and Fred and Ron! We're also looking for scheming Slytherins! A devious Draco or socialite Narcissa are wanted by our deliciously naughty Lucius. Want to play a leading man in politics and fighting Death Eaters? Kingsley Shacklebolt is up for recasting! What are you waiting for? Go to the link for a full list of available characters!
We are friendly, quality writers looking for like-minded players. This is an epic game spanning the entire Wizarding World with active plots planned at timed intervals. We seek active, long-term, cooperative players for our main character slots and have a large offering of characters for new and/or casual of players also to fit limited play time schedules! Roles that encompass everything from support characters to goblins in Gringotts!
~~~
Flawed Plans RPG | Game Rules | Character Listing | Character Application | FP Applications | FP OOC/Smut Comm | FP Watchers

Applications should be emailed to us at: FP Council Questions? Want to Hold a character? Email us at: FP Council
~~~
It's been two years since the Battle of Hogwarts and the Wizarding world is trying to move on unaware of the plotting by Death Eaters both on the run and pardoned.